OUR SERVICES
Medical Revenue Cycle Collection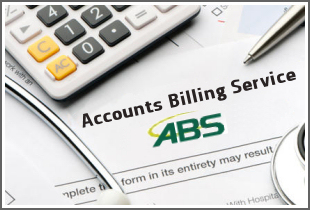 As employers begin to concentrate more and more on controlling the rising cost of healthcare, managing the healthcare revenue cycle is increasingly becoming a more critical focal point of any successful medical practice. The financial pressure of the new business environment demands that your practice be able to respond quickly, accelerate cash collection, and improve payor performance.
Don't Wait! Time is of the essence. It is critical that the management of your revenue cycle become efficient and productive. Every day that you postpone getting complete control of this aspect of your practice is another day that you risk falling further behind in your efforts. The sooner you decide to contact ABS to allow us to provide this service to you, the better off you and your medical practice will be.


Radiology Services

ABS is a member of RBMA -  the Radiology Business Management Association.  We provide a complete set of resources for your Radiology practice
Data Accuracy Verification
New Practice Startup
Analyze Billed Charge Fee Schedule with Recommendations
Submission of Direct Claims
In-House Collection Program
Managed Care Expertise
Streamlined Appeals Process
Revenue Cycle Management
... and more
Anesthesiology Services
Anesthesiology practices face immense challenges in the medical community. It is important to partner with a business that understands the needs and demands that can be faced by an Anesthesiology practice.
All types of anesthesia billing including general surgery, epidurals, open heart procedures, and more
Anesthesia Certified Coders
Direct Claims Submissions
Procurement of Demographic/Charge Information
Analysis and Recommendations for Billing Fee Schedules
Revenue Cycle Management
Workers' Compensation Expertise
Bankruptcy and Patient Estate Verification
... and more
Pathology Services
Pathology is a medical specialty that focuses on determining the cause and nature of diseases. The unique challenges presented by the Pathology specialty requires a partner that understands the changing nature of the pathology practice.
Direct Claims Submission
Revenue Cycle Management
Worker's Compensation
Managed Care Expertise
Patient Payment Plan Administration
Overpayment Reconciliation
New Practice Startup
Detailed Billing Management Reports As Required
... and more
Cardiology Services
Cardiology Services provided by ABS enables you to focus on patient care. Our understanding of cardiology practice operations and the complete billing cycle allows us to deliver a complete comprehensive solution to managing your cardiology practice. ABS can help your practice grow by providing knowledge and experience that will help streamline the operational strategy and daily activities for your practice.
New Practice Startup
Physician Credentialing
Complete Human Resource Services
Strategic Development
Marketing Plan Development
Electronic Document Management (EDM)
Electronic Medical Records (EMR)
Operational Overhead Analysis
Purchasing of Medical Equipment and Drugs
Managed Contract Review
Partner Strategies (buy-ins, buy-outs, payouts)
... and more
Hospital Services
Proper hospital management is becoming increasingly more important as the financial environment has produced less revenue, higher operational costs, and more governmental regulations for medical facilities. ABS provides a variety of services to assist hospitals in managing their internal processes by providing an unbiased objective evaluation of every aspect that affects operational efficiency.
Business Venture Consultation
Strategic Planning
Merger and Acquisition Research
Clinical Service Efficiency Evaluation
Marketing Plan Development
Imaging Center Operation and Development
Imaging Center Profitability Evaluation by Modality
System Evaluations
RFP Management, Including RIS and PACS
... and more
Physician Services
Physician practices are challenged increasingly to control costs and improve cash flow while still providing the same high level of services expected by patients. However, for many physician practices, providing patient-centered care is hindered by a lack of time and resources that could be overcome by improved efficiency in its operations. ABS provides complete physician services that can help physicians gain control of their medical practices rather than being at the mercy of factors affecting it.
ICD-10 Coding Preparation and Analysis
Compliance and Coding Risk Mitigation
Coding Training and Documentation
Compliance Monitoring
Strategic Planning
Practice Operations Management
Practice Administration (accounting, financial, human resources, payroll, etc.)
Data Analytics and Decision Support
... and more
---